How to reach us?
Razanac is situated in central Dalmatia near the city of Zadar.
The easiest and quickest way to come to Razanac is by highway, using one of the following options. You can travel via Rijeka-Zadar or Zagreb-Zadar. Both directions lead you to Maslenica Bridge.
5 km from Maslenica Bridge exit on Posedarje-exit, follow the direction of the island of Pag. After 15 km, you will find a crossroad with a sign for Razanac on your right. At that crossroad turn right, and after 500 m on the left you will see Camp Planik.
You can also come to Ražanac using the Adriatic scenic road. This way, you come from the direction of Rijeka, across the island of Pag using the Prizna-Žigljen ferry. During the period from 30th May until 30th September, ferries depart very frequently. When you exit from the ferry on the island of Pag, you should follow the direction of Zadar. You have to drive across the whole island. Then you exit the island at the Pag bridge. You will find Razanac 10 km on your left. Turn left, and soon you will see the camp on your left side after 500 m.
Ražanac has a good bus connection with Zadar, also.
GPS:

44° 16' 41.01'' N 15° 20' 42.93'' E

Fax:

+385 (023) 65 33 93

Postal address:Camping Planik
Ražanac X 53
23248 Ražanac
Hrvatska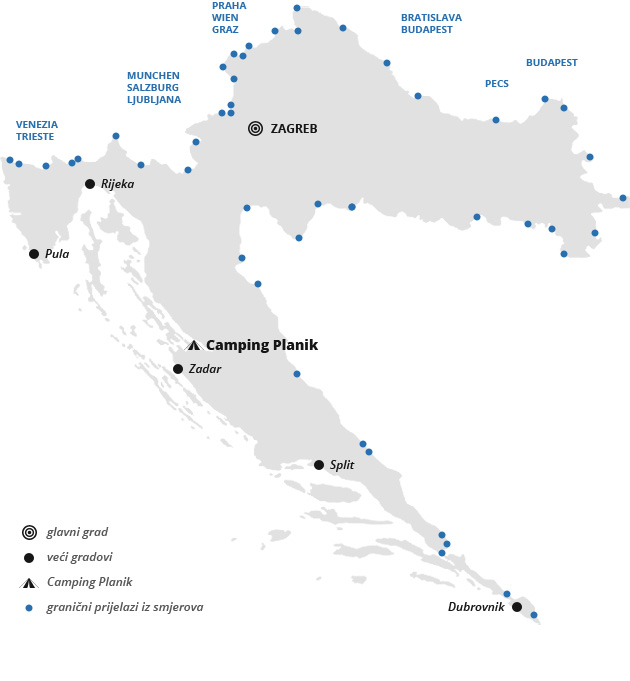 Bus lines
| | | | | | | | |
| --- | --- | --- | --- | --- | --- | --- | --- |
| Ražanac - Zadar | | | | | | | |
| Working days | 04:55 | 06:35 | 07:35 | 12:50 | 16:40 | 17:15 | 18:00 |
| Saturday | 05:35 | 12:50 | 19:15 | | | | |
| Sunday | 05:45 | | | | | | |
| | | | | | | | |
| --- | --- | --- | --- | --- | --- | --- | --- |
| Zadar - Ražanac | | | | | | | |
| Working days | 04:55 | 06:35 | 07:35 | 12:50 | 16:40 | 17:15 | 18:00 |
| Saturday | 05:35 | 12:50 | 19:15 | | | | |
| Sunday | 05:45 | | | | | | |